Henry Andrew White



Contributor:

HENRY ANDREW WHITE
Henry Andrew White, my grandfather, left these family records with his daughter Opal Angeline when he died.
He died in Kirkwood Illinois in 1951. Aunt Opal told me there was a town named Lingo in Missouri and her dad was born in New Cambria, Missouri. This is when I started my search in 1986.
I do not know why Henry went to the La Harpe Illinois area in 1895 while most of the family went to Bluff Taney Co. Missouri. Henry's father Benjamin Franklin White died in Taney Co. in 1911 and his death certificate states that his father had been Robert Lewis White and mother had been Nancy J. Stinson.
Frank was born in Howard Co in 1841 and apparently lived their until March of 1847 when his parents sold the land to a Mr. Ray. Both parents dissappear. Frank re emerges in Macon Co in 1860 working for James Lingo, brother to Isaac Smith Lingo, his wife Francis Angelines' father. Her grandfather was Judge S.S. Lingo , and the Lingo Family goes back to Early Colonial Days.
What I do know :
Robert White was administrator for Richard White in Howard Co. in 1825.
Robert and Nancy J. White sold land in Howard Co to Mr. Ray in March 1847.
A notice in the Brunswicker in on probate of Robert White who died in later 1847.
I do not know for a fact that this is the same Robert.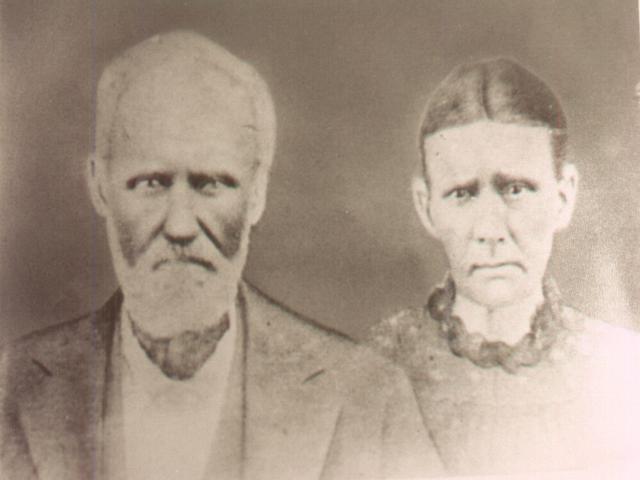 Benjamin Franklin White
Francis Angeline Lingo
b Mar 15 1841 Howard Co Mo
d Nov 1911 Taney Co Mo
Son of Robert Lewis White and Nancy J. Stinson
b Jan 1846 Macon Co Mo
d 1918 Taney Co Mo.
Daughter of Isaac Smith Lingo
b 1824 Lincoln Co Tenn
d 1883 Mulberry Texas
Elizabeth Parish
b 1826 Lincoln Co Tenn
d 185? Macon Co Mo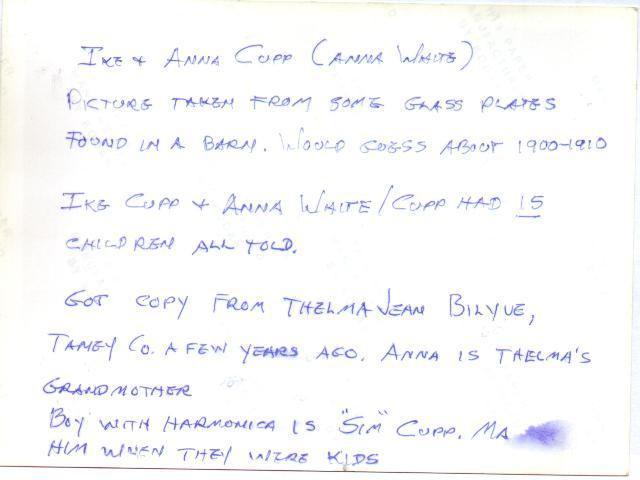 Back of the above photo.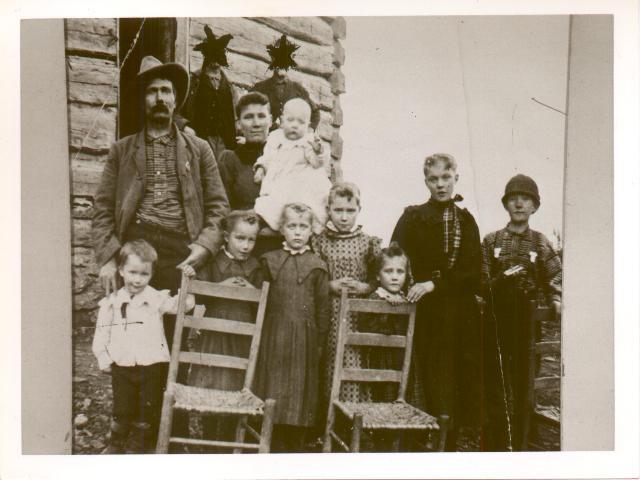 Picture of family group.
Isaac Cupp b1860 Mo d 1940,
Nancy Anne White (Cupp) born 1868 New Cambria Mo. died 1946 Taney Co Mo.
Both are buried at Meadows Cemetery Bluff Taney Co Mo.
Nancy is daughter of B.F. White and F.A. Lingo White.
Men with faces crossed out were Baldknobbers.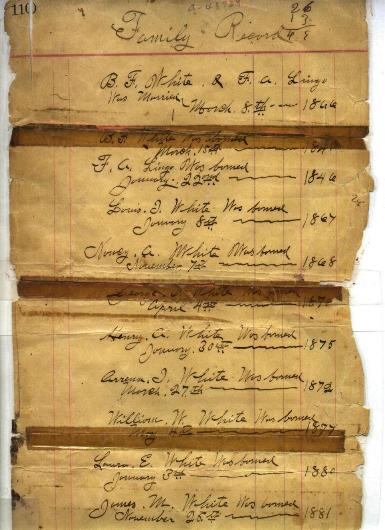 Bible / Family Record
Benjamin Franklin White was the
son of Robert Lewis White died 1847 MO and Nancy J. Stinson.
He was born on March 15 1841 in Howard Co Mo and
died on Nov 6 1911 in Bluff Taney Co Mo.
He married Francis Angeline Lingo in March 1866 in Macon Co Mo.
She was daughter of Elizabeth Parish ( d circa 1850 Mo.) and
Isaac Smith Lingo (b 1824 Lincoln Co Tenn and d April 1883 Mulberry Texas).
Francis was born on Jan 22 1846 in Macon Co Mo and died in Aug 8 1918 according to her grand daughter Ida Williams Compton (1894 Mo to 1994 Galt Ca.).
Both are buried in Meadows Cemetery Bluff Taney Co Mo.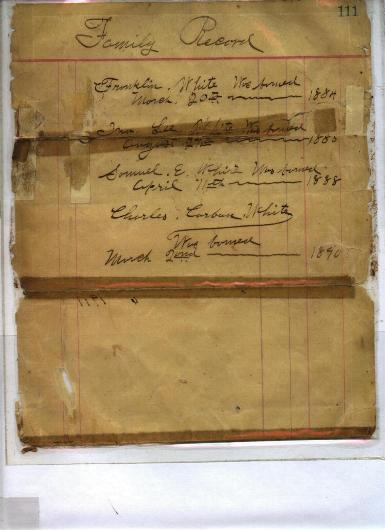 Children
Louis Isaac White b Jan 8 1867 d 1957 Mc Cloud CA,
m 1 Zella Pippin m 2 Belle Arbuckle Pippen
Nancy Anne White b Nov 7 1868 d1946 Taney Co Mo m Isaac Cupp
George Owen White b April 4 1870 d 1940 buried at Willard Cemetery Mo. m Sarah Darr Phillippine War Vet
Orrena Isabelle White b Mar 27 1872 Macon Co Mo d 1919 in Paris/Perris .Her daughter Ida didn' t say which Paris/Perris. m Charles Williams
Henry Andrew White b Jan 30 1875 New Cambria Mo. died June 1951 Kirkwood Illinois. m Pearl Hope Mc Lean(Mc Clain) in La Harpe Illinois 1902.
William Willis White b May 4 1877 d Aug 6 1934 buried in Meadows Cemetery Taney Co Mo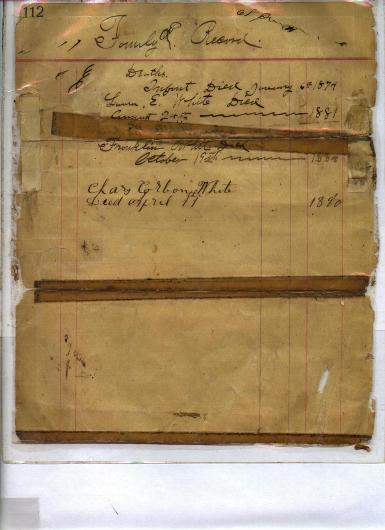 Laura E. Jan 3 1880 to 1881
James Mitchell White b Nov 5 1881 Macon Co d 1956 Springfield Mo. m Ellen Lenore Lea
Franklin White born and died 1884.
Ira Lee White Aug 27 1880 Macon Co. Mo died 1964 Quapaw Oklahoma. m Dovie Clevenger
Charles Coburn White born and died 1890
Samuel E. White b April 11 1888 d 1961 m Josephine Manewal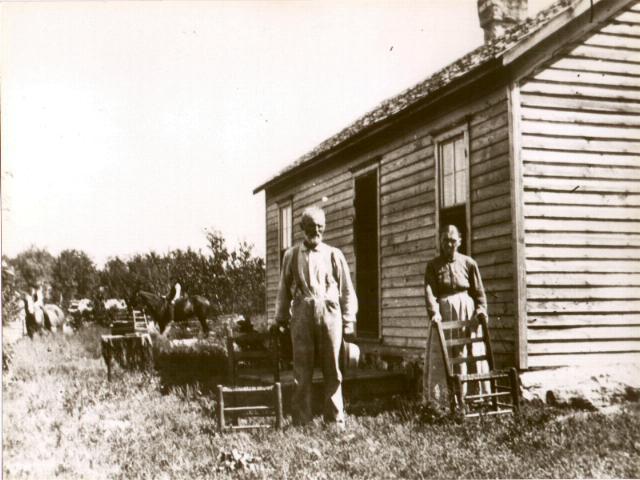 Benjamin Franklin White 1841 to 1911
Francis Angeline Lingo 1846 to 1918.
Both are buried in Meadows Cemetery in Taney Co. Mo.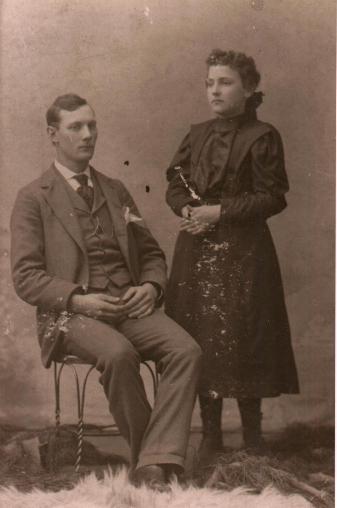 Picture taken about 1895
Henry A. White
born Jan 1875 New Cambaria Mo died June 1951 Kirkwood Illinois.
Girl is "Frankie"
Back of the picture says Henry and Frankie.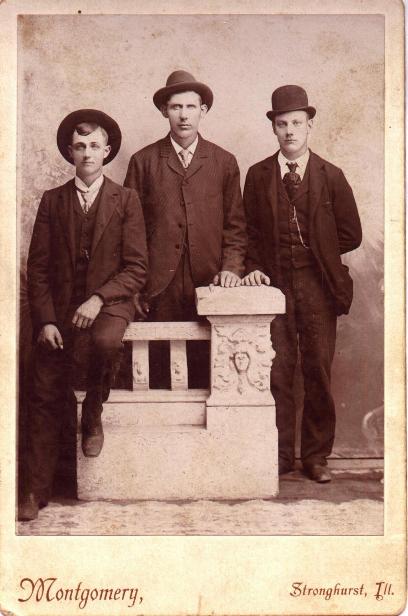 Henry A. White on far right
Born New Cambria Mo Jan 1875 died June 1951 Kirkwood Illinois.
Other 2 men are Charles Johnson and J.J. Mathers.
PIcture taken on August 12 1895.
---
---